WPFFA Local 455 Fallen Firefighters Memorial
WPFFA Local 455 Firefighters Memorial
The monument is a 10' foot statue completely bronzed and weighing over 500lbs. It will be placed near Dieppe Gardens on the Riverfront as a focal point of the International Memorial which will border Canada and the United States and be placed so as to overlook the Detroit River and City Skylines.
This perpetual tribute will include the names of those fallen engraved on the memorial wall and will serve to remember and honor those who have fallen and have paid the ultimate sacrifice.
Citizens will be able to visit and remember those local heroes from both sides of the border which will allow them to celebrate their memory, honor their career and remember the life they blessed others with.
Click
here
to read Marty Gervais' Windsor Star Article on the WPFFA 455 Fallen Firefightes Memorial.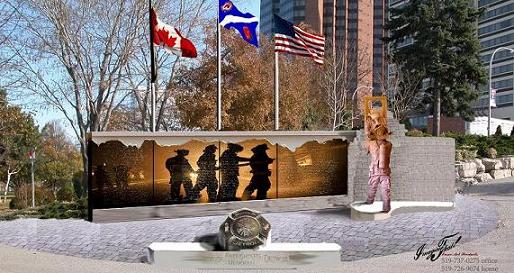 Artist's rendition of the WPFFA Local 455 Fallen Firefighters Memorial
Page Last Updated: Dec 12, 2011 (20:32:00)